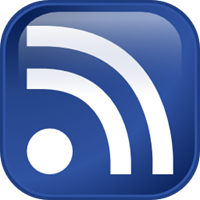 Facebook users are still figuring out that most of the posts from your Pages never appear in your news feed. But there is a work-around. Here's how to subscribe to an Interest List to make sure you never miss important Social Fixer posts.
First, go directly to the Public List I have created, called "Social Fixer News":
https://www.facebook.com/lists/10150970104052276

This list contains posts by only one Page – Social Fixer. When you view the list, it will show you all recent posts just from the Page, so you won't miss important announcements about changes, new features, etc.
At the top, find the "Subscribe" button and click it. This will add the list to your left sidebar, probably at the bottom. (You may have to click the "more" link to find "Interests", depending on how many things you already have in your left sidebar)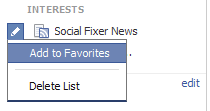 Hover over the list, and an edit icon will appear to the left. Click it, and this menu appears: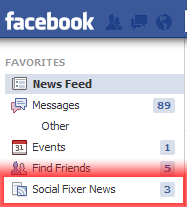 Click the "Add to Favorites" item, and this will bring the list to the upper part of the left column, where it will always be visible, as shown to the left.
The number to the right shows how many new posts have not been read. Clicking the "Social Fixer News" item will bring up a list of all recent posts from the Page, even if you never saw them in your news feed. The news feed filters content out and hides it from you based on their EdgeRank algorithm. Lists do not do this. Or at least not yet!
You can repeat the same process for other Pages or Friends, creating custom lists of your own. Then, you can always check the lists to see if there are any new posts that you haven't seen.
Hope this helps, and please check the posts, so you can be made aware of the useful information which I post every few days!
Extra Tip: If you want the count of new posts to show up in red to make sure you don't miss anything, enter this CSS in Options->Styles(CSS):
#navItem_fl_10150970104052276 .uiSideNavCount { background-color:red !important; color:white !important; }

-- Matt Kruse, Author of Social Fixer