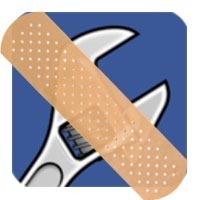 Social Fixer 10.6 is a patch release to fix several bugs and problems, some caused by recent Facebook code changes. Read below for the short list of fixes.


Install the 10.6 update by going to SocialFixer.com
What's Fixed?
The Control Panel stopped floating down when the page was scrolled
Locking the blue header bar to the top stopped working
Image Previews when hovering didn't show in some cases
The "Home" link in the header was no longer hideable
The "Find Friends" link in the header was no longer hideable
The red "badge" indicator on the wrench icon was not displaying correctly
What's New?
Improved performance! Some internal code optimizations have made Social Fixer run faster than ever.
Added a link to the Support Group whenever commenting on Social Fixer posts in the news feed. The goal is to direct people to the place where they can get the best assistance.
Added a simple error message to the Image Preview "loading" popup when a full sized image cannot be loaded. In some cases, I cannot calculate the correct full sized image location.
-- Matt Kruse, developer of Social Fixer