Not A Sports Fan? Hide All Football And Super Bowl Posts From Your News Feed!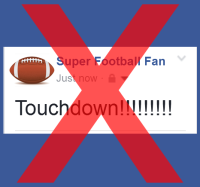 In the last post, we showed you how to hide politics from your news feed using Social Fixer's built-in filters. Now for all of you who are not sports fans, a new pre-made filter lets you hide football, too! Here's how to do it in 4 easy steps:
Download the Social Fixer browser extension. It plugs right into your browser (Firefox, Chrome, Opera, Safari, +more) and changes how Facebook works, adding lots of great features - including the ability to filter posts in your news feed.
Download from SocialFixer.com


Once installed, reload Facebook. You'll see a menu badge appear. Click this wrench and choose Social Fixer Options to open the options menu.

Choose the "Filters" section on the left, and scroll down to the bottom of the right panel. This is the list of ready-made post filters that you can simply enable and use. Find the one in the list for the Super Bowl. It is pre-configured to hide these posts from your news feed and replace them with a small note saying that a post was hidden. Click the + icon to add it to your list of Active Filters.

Click "Save Changes" and refresh your news feed (F5) and see that the football posts are gone! Instead, you'll see this small message in your feed where a post would have been:
You can still click on the message to show the original post, just in case.
Filters Auto-Update To Stay Current
Don't worry about updating your keywords to keep blocking posts as the player names and teams in the news change. That's all done automatically for you.
Every day, Social Fixer checks for filter updates from the development team and applies them automatically. So if a new word becomes common and posts aren't filtered, rest assured it will soon vanish from your view.
More Pre-Made Filters
A number of additional pre-made filters are ready for you to add. These filters address common requests from users and take different actions on posts depending on the filter - for example, you can Hide Sponsored Posts! These all auto-update, so you can just "set it and forget it".
Create Your Own Filters
Social Fixer has powerful filtering capabilities you'll want to explore by creating your own filters. You can act based on a post's author, keywords in the post, links posted, and many other details about the post. And you can hide posts, move them to tabs, change how they appear, and more. It's easy to get started and play around, while the depth of functionality gives you all the control you would want.
Lots More Features
In addition to filtering your news feed, Social Fixer has lots of other great features to help you customize your Facebook experience. Be sure to check out the list of features and see what else it can do for you.
Questions? Problems? Need Support?
The Support Team and the Social Fixer user community can help you out in the Social Fixer Support Group, located here: http://SocialFixer.com/support/
Please, Donate to support development!
– Matt Kruse, developer of Social Fixer